Welcome to the family-friendly organic farm of the Grünwald family, located in Eben im Pongau in the midst of the Salzburg Sportwelt Amade.
Family-friendly atmosphere
Enjoy your holiday in a cozy farm atmosphere and recharge your batteries surrounded by the beautiful nature. Your most valuable time of the year, should be an unforgettable family experience for you and your children.
We look forward to you!

Our organic farm is located right between Eben and Filzmoos in a beautiful valley, surrounded by meadows and forests. Our farm is equally suitable as a holiday destination to enjoy your summer vacation as well as winter sports. We ourselves have 5 children and therefore we are a very child-friendly accommodation.
Our motto: Holiday starts where the kids are happy!
Our fun paradise for kids offers the right toy for everyone: Go-karts, Bobby-cars, swings and slides, a roofed sandbox, a big trampoline, swimming-pool, bicycles for kids, a tree house and a lot more. A special equipped gaming room with table tennis, table football, billiards ensures that it doesn't get boring even when the weather is bad.
On our farm we also have a lot of animals like: goats, sheep, cats, a dog, rabbits, cows, a pig and chickens.
Next to the farmyard there is a small creek for playing and cooling down.
A firepit invites you for a nice barbecue and a cozy get-together.
Baking bread together in the old wood oven, just like the farmers have been doing for centuries, is also a lot of fun.
Hikes and barbecues are a pleasure for the whole family.
Sports are not missed out as well.
We are located right in the middle of the popular ski area Salzburger Sportwelt Amade.
Both Flachau and Altenmarkt-Zauchensee as well as Schladming are in close vicinity.
The hiking area of Pongau with its beautiful trails is a great choice especiale in the summer months. Numerous excursion destinations and sights can be found within a radius of 45km, including the city of Salzburg
For the summer we recommend the Salzburger-Land Card www.salzburgerlandcard.com

Our 4 apartments witch are very well equipped are suitable for 2 to 7 people. Bed linen, towels, toilet paper and dishwasher are also standard. The apartments all have a bathroom with shower and toilet, a eat-in kitchen with dining area and a flat screen Tv.
The apartments also include a terrace or a balcony.
Our organic farm Schattaugut - ideal for families or adults to relax and recover!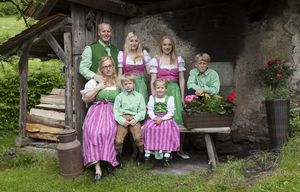 Activities
A small stream adjacent to the courtyard invites you to play or cooling for children and adults. A large trampoline, swimming pool, children's bicycles, swing, slide, tree house, table tennis, table football and billiards are available for children.
Gym
In the training room they find an infrared cabin, a treadmill and an exercise bike.
For children
room to move
An extra-equipped room ensures that it does not get boring even in bad weather.
Spielparadies
Our play area caters for all the right toys (cars, swings, slide, sandpit.
Animals
We also offer something for our animal friends, our cats are very playful.
Furthermore, we also have animals such as goats, sheep, a dog, rabbits, cows, pig and chicken.
bread baking
Common bread baking in the old wood stove - as do the peasants for centuries.
cozy barbecued sausages on campfire
Winter
Our farm is located in the Salzburg Sportwelt Amade.
Attractions
City of Salzburg
about 45 km from Eben.
The city of Salzburg is a worthwhile day trip destination and offers a variety of sightseeing opportunities.
Burg Hohenwerfen - bei Werfen
about25 km in the direction of Salzburg with falconry show and falconry museum.
Burg Mauterndorf im Lungau
about 45 km from Altenmarkt
Guided tours for groups of 6. - Special tours can only be arranged in advance.
Dachstein glacier cable car Ramsau
about 25 km from accommodation